by The Lost Marketing Ploy
The McCanns told EVERYONE THE SAME LIE
on night of the 3rd May 2007!
The window was smashed - The shutter tampered with
-HOW would you comment on THIS Gerald McCann and Kate Healy?!
Her aunt Trish Cameron, who lives in Glasgow, said she felt certain her niece had been abducted.




"They last checked at half past nine and they were all sound asleep, sleeping, windows shut, shutters shut.


"Kate went back at 10 o'clock to check. The front door was lying open, the window had been tampered with, the shutters had been jemmied open or whatever you call it and Madeleine was missing...

http://news.bbc.co.uk/2/hi/uk_news/england/leicestershire/6623127.stm







"Mr Hill [resort manager]

said that despite the report by a family friend that the shutters to the couple's apartment were broken, there was no sign that anyone had forced their way in

while the McCanns ate at the tapas restaurant 200 yards away.


He said: "We are hoping that Madeleine is found as soon as possible and safe and well. Everybody here is just wishing that she is found as soon as possible."
But family friend Jill Renwick told GMTV the McCanns were certain that Madeleine has been abducted.
"They were just watching the hotel room and going back every half-hour and the

shutters had been broken open

and they had gone into the room and taken Madeleine," she said." Continue reading...
_____________
"Thursday, May 3, 2012

#McCann : Clarence Mitchell Has Been Reported To The IPCC And The Police.

The country as we all know is a cesspit of corruption but I cannot let this blatant lie pass without trying to be heard. I intend to follow this lead to the very end.

http://marieluzcorezmurdervictimofthemccanns.blogspot.com.es/2012/05/mccann-latest-victim-antonio-castela.html

This is what Castela said

"I don't have a lot to say, but what I have to say, I can state with certainty. On the 3rd of May at 8.10pm, the evening of Madeleine's disappearance, three men, a woman and a little girl entered my taxi. Sitting beside me was seated a man who resembled Robert Murat and whom I recognised later in the press. There was also a little girl in pink pyjamas with that distinctive mark in her eye and her mother, of that there is no doubt."

Clarence Mitchell has broken the law ,changed Antonio Castela's statement and had the media publish a blatant lie!

Breakthrough? Antonio Castela, 72, claims he is sure that a girl in pink pyjamas who he picked up along with four adults the night after Maddie went missing was her
________________________________________________
Kate Healy INSISTS in slipping up again!!!
"Another slip up, the Door, since Gerry had gone into the children's bedroom, how could Kate claim that the DOOR was open further than when they went out?" Nice One
Panda
!!! Now you are reminding me that she'd previously slipped-up the SAME way. Isn't this becoming a habit?! Remember the massive slip-up she did TWICE: in 2007 (to social worker Yvonne Martin) and in 2011 (RTE tv show), to sum it up she revealed this way (woops!! ;) that "Madeleine was missing at 9pm"!, NOT 9:15 /20? pm like they dared claim. With these 2 slip-ups conjuncted together, we now have a CLEARER view, don't we all?
Ang Gerry, Oh Gerry... saying Maddy got abducted a few minutes after his last check (so he was JUST OUTSIDE the flat talking to Jeremy WILKINS... NOT hearing the SHUTTER NOISE?!), adding that their lives was shattered within minutes... Eh? hey were supposed to find this out circa 45 minutes later!!) I mean, according to their
agreed scenario
(see the TWO different "time line notes they rushed to handle to the police).
HYPOTHESIS: Letting the TRUTH fly off her mouth, Kate tells us in fact that a check was done a few minutes before 9pm, and then, Maddy was "missing". But since the slip-ups hide LIES, I can safely think that by "missin", they mean "DEAD". And isn't this also confirmed by the forensics?! And confirmed by themselves, when they kept talking about Madeleine in the PAST tense. "She WAS...."!
Mmh, Gerry... "The night we FOUND her". Interesting, no?
There is NO EVIDENCE that they stayed in the flat after putting the kids to bed. This was, they stated, at 7pm / 7:30 pm... I THINK they left them there to get to another place.... like THE KELLY'S BAR. They DRANK, enjoying THEIR holiday ("after all"...) and they checked on their way back to the Tapas, or a "visiting" friend alerted them in the bar, having found their child LIFELESS in the 5a apartment.
And that's why they all pretended checks and ill children. To get rid of the body and CLEAN UP. At some point Gerry felt the urge to check outside for possible witnesses, he had probably spotted WILKINS walking around, and went to talk with him to take his attention AWAY from the body shifting -someone was just walking up the hill with a dead Madeleine in their arms.
This leads me to think that he had JUST passed the body through th kids' window to a friend - hence the ease TANNER had to "tell her story". Of course she never needed to tell the McCanns she "saw the abductor", naturally!!! The police (PJ) found this really strange, no wonders why if this theory is closed to the truth...
" #McCann: #Sweden - Swedish T.V. Interview
April 2011 at the occasion of Kate's book she titled: "madeleine" [sic]
"I have not watched the 'interview ' the same lies after a while become tiresome . However, for those who wish to witness two psycopaths in action please do so, forum also open for discussion." Hee hee, SteelMag. How DO comprehend! Why des Kate see that it's a LUXURY to still have the twins around?
Also, is she uneasy about the fact that they recall parts of daily life BEFORE the 3rd May event? Could their early memories say something about the "FORCED ENTRY" that NEVER happened as Gerry described to his family and friends on the telephone?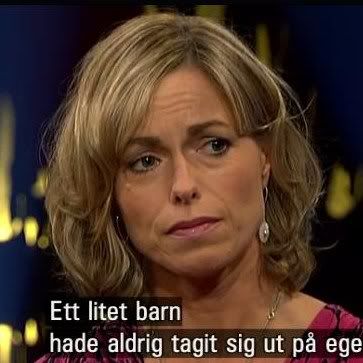 AnnaEsse wrote:

pennylane wrote:

NoStone wrote:That smile and nod of appreciation by Gerry at the round of applause on being introduced (boosting his celeb ego) has made me.........

Let's have a

big

round of applause please for two British doctors who went on holiday and left their three under four year old toddlers alone 5 nights in a row, wiping out one of them in the process.

Dr Kate and Dr Gerry

And they managed to keep two of them!
I'm in awe!
-end of quote-
______________________
An Enormous MARKETING PLOY! Retail site using Maddy photo (and another BIG Publicity Stunt! isn't it.)
A RETAIL site using the most famous photo of Madeleine McCann to advertise its Holidays Department! Are the McCanns and the business (fund) co-holders aware of this? Have they allowed it???!!! EDIT 08/05/2012 (next day): No, the McCanns had NOT allowed it, as this article shows it, by the way taking the opportunity to announce yet a new "sighting" of a girl "ressembling" Madeleine...
yawn
. I note the exact same order of published screen-captures as on thos blog post by the way, eh eh, yesterday I was tired as per every night so I didn't care if the home page for VoucherDigg site was showing as second pic; anyway this is only minor news so this unimportant post is getting 'archived' now onto a rear page.
Let's NOT forget that the public at large STILL doesn't realise that the McCanns REFUSED to do a police reconstruction that WOULD have helped for their Daughter's Case and STILL HAVEN'T ASKED OFFICIALLY IN THE WRITING TO THE PORTUGUESE AUTHORITIES THE RE-OPENING OF THE CASE (or "un-archiving".)
-THEY can request it, but they DON'T! SHARE this info,
never mind the 'holiday site'...
-Credit for the Info and Link: Kathie -
Screen captures:
http://www.voucherdigg.co.uk/




POST LABELS/ KEYWORDS / TAGS:

RE-OPENING, of, the, case, digg, holidays, Madeleine, marketing, McCann, photo, photograph, picture, ploy, retail, site, voucher
____________________________________________________________
Source: WIKIPEDIA
"By the family
web site
for the search was set up and the McCann family released two early video appeals.
[3]
The first was a photograph and video montage set to
Simple Minds
' song "
Don't You (Forget About Me)
" and included an animation of the word LOOK in
uppercase
with a reproduction of her
coloboma
as a radial line inside the first letter O, which blinks.
[4]
The second featured a montage of images with a voice-over by actress
Zoë Wanamaker
mentioning her coloboma, asking for information of her whereabouts, and to download and display a poster of her from the official site.
[5]
The family said that some of the money raised from
Madeleine's Fund
would go towards hiring campaigning professionals with the aim of achieving the same saturation level of publicity across Europe as they have attained in the UK and the
Algarve
.
[6]
The family based themselves in the same holiday resort from the time of the disappearance, at the time stating they would remain there until Madeleine was located, though as part of the campaign the McCanns have visited Vatican City, Spain, Germany and Morocco to raise awareness and on 5 June they made an appeal on the British TV programme
Crimewatch
.
[7]
[8]
However, shortly after being named as
arguidos
, the McCanns returned to the UK on 9 September.
[9]
Madeleine's father had already made a brief trip to the UK on 20 May 2007 to help finalise the campaign for the search for his daughter.
[10]
Gerry McCann visited the United States between 22 and 25 July when he met
US Attorney General
Alberto Gonzales
and experts from the National and International Centres for Missing and Exploited Children. During interviews on
network television
programmes Gerry was forced to defend leaving the children alone.
[11]
READ MORE:
http://en.wikipedia.org/wiki/Response_to_the_disappearance_of_Madeleine_McCann#Implications_for_television_programmes_and_films
________________________________
Wednesday, 29 February 2012
_______________________________
AMARAL HAS
WON

AND HIS BOOK IS NO LONGER BANNED!

____________________________________________________
From You Tube:
"OK, the abductor might have been retracing their steps, but hey, this guy was supposed to be organised, having been staking out the McCanns apartment all week. He then
1) picks the most inappropriate time possible for the abduction - with all those checks by the Tapas 9 it must have been like Piccadilly Circus
2) chooses, in Maddie, the heaviest child to abduct - the one most likely to wake and hardest one to get through the apartment window.
3) spends 30 minutes milling around either side of the complex with an abducted child in his arms.
The only conclusion you can draw is that the Smith sighting is the only true sighting, and that Tanner's account is a figment of someone's imagination."
Read more on Video Description on:
http://youtu.be/nvNkYRfQAv8
_________________________________________________